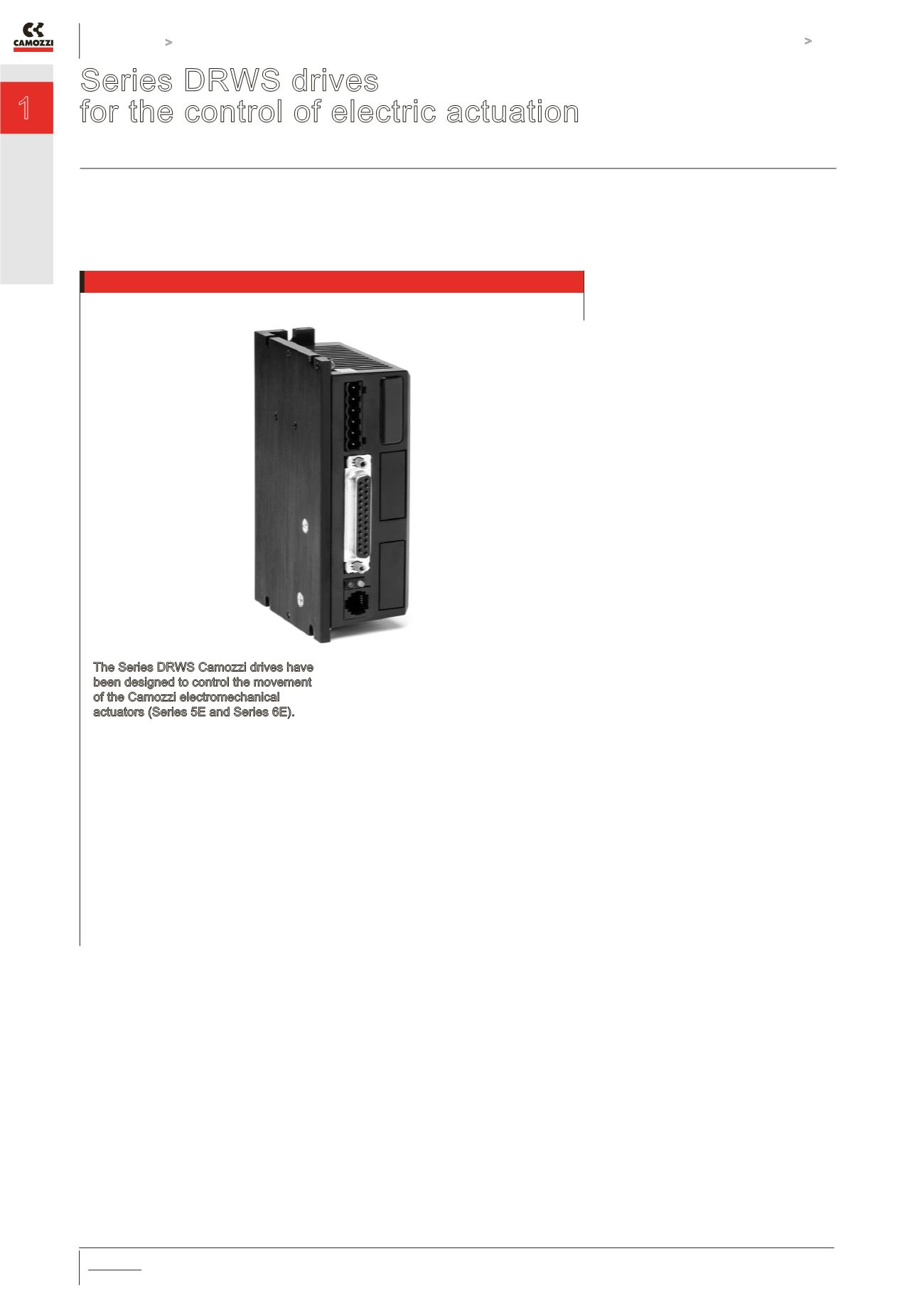 Products designed for industrial applications.
General terms and conditions for sale are available on
www.camozzi.com.
1
Series DRWS drives
MOVEMENT >
C_Electrics
>
2017
64
MOVEMENT
Series DRWS drives
for the control of electric actuation
Drives for Stepper motors, one size/version
The Series DRWS Camozzi drives have
been designed to control the movement
of the Camozzi electromechanical
actuators (Series 5E and Series 6E).
The DRWS drives, compact and
optimized in one size, have been
especially studied for all Camozzi
Stepper motors. They are capable of
controlling Stepper motors with 2 phases
and micro stepping feed. They are
able to calculate the normal resonance
frequency of the motors and optimize
their driving. Moreover, they can reduce
natural friction to a minimum during very
slow rollings of the Stepper motor, giving
a continuous and very fluid (smooth
effect) movement at any speed thanks
to the Microstepping technique, thus
achieving a 1/64 STEP resolution.
»
»
Completely digital drives
»
»
PLC function programmable
with the Camozzi QSet
configuration software
»
»
Control of speed,
position and torque
»
»
32 positions programmable
through the QSet
»
»
Self-compensation of errors
Another function that has been
integrated into the drives reduces
vibrations to a minimum during rotation
inversion or during sudden changes in
speed. At initial ignition/ switching on,
the DRWS drives are able to calculate
the inductance, the electrical resistance
of the motor connected and the inertia of
the motor, and saves these parameters
inside in order to better manage the
driving of the motors.