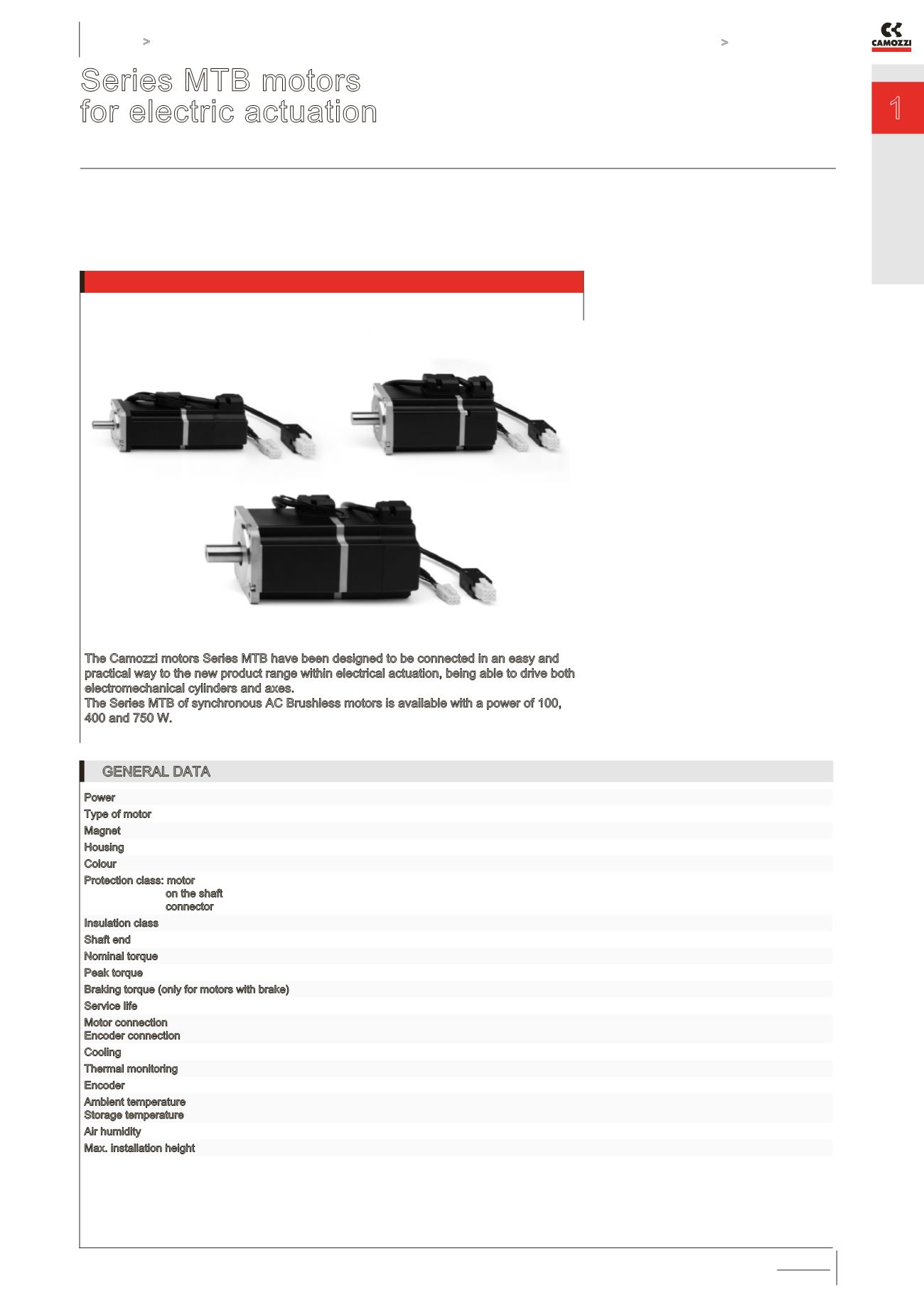 Products designed for industrial applications.
General terms and conditions for sale are available on
www.camozzi.com.
Series MTB motors
C_Electrics
1
67
>
2017
MOVEMENT >
MOVEMENT
Series MTB motors
for electric actuation
Brushless motors in power classes 100, 400 and 750 W
The Camozzi motors Series MTB have been designed to be connected in an easy and
practical way to the new product range within electrical actuation, being able to drive both
electromechanical cylinders and axes.
The Series MTB of synchronous AC Brushless motors is available with a power of 100,
400 and 750 W.
The standard motors are equipped with
a 13 bit encoder with 10,000 increments
per cycle and are offered with or without a
motor brake. Due to the high dynamics of
these motors, it is possible to guarantee a
constant torque at any speed.
Due to the low mass inertia, they are
particularly suitable for high work dynamics,
like sudden changes in direction or high
moving frequencies.
»
»
Low inertia motors
»
»
Available with or
without brake
»
»
With incremental
13 bit encoder
»
»
Different sizes or power
classes available
GENERAL DATA
Power
100 W (Mod. MTB-010-... ) - 400 W (Mod. MTB-040-...) - 750 W (Mod. MTB-075-...)
Type of motor
permanently excited synchronous servo motor
Magnet
Neodymium, iron and boron (NdFeB)
Housing
Aluminium
Colour
black
Protection class: motor
on the shaft
connector
IP65
IP40
IP20
Insulation class
class A
Shaft end
no machining
Nominal torque
0.32 Nm (100 W) - 1.27 Nm (400 W) - 2.4 Nm (750 W)
Peak torque
3 × nominal torque
Braking torque (only for motors with brake) 0.32 Nm (100 W) - 1.27 Nm (400 W) - 2.4 Nm (750 W)
Service life
> 20.000 h (at nominal load)
Motor connection
Encoder connection
cable (300 mm) available out of the motor
cable (300 mm) available out of the encoder
Cooling
with an integrated radiator
Thermal monitoring
not available
Encoder
incremental 13-bit TTL encoder, 10 000 pulses/revolution
Ambient temperature
Storage temperature
0°C ÷ 40°C
–15°C ÷ 70°C
Air humidity
up to 80 % of relative air humidity
Max. installation height
at below 1.000 m above sea level