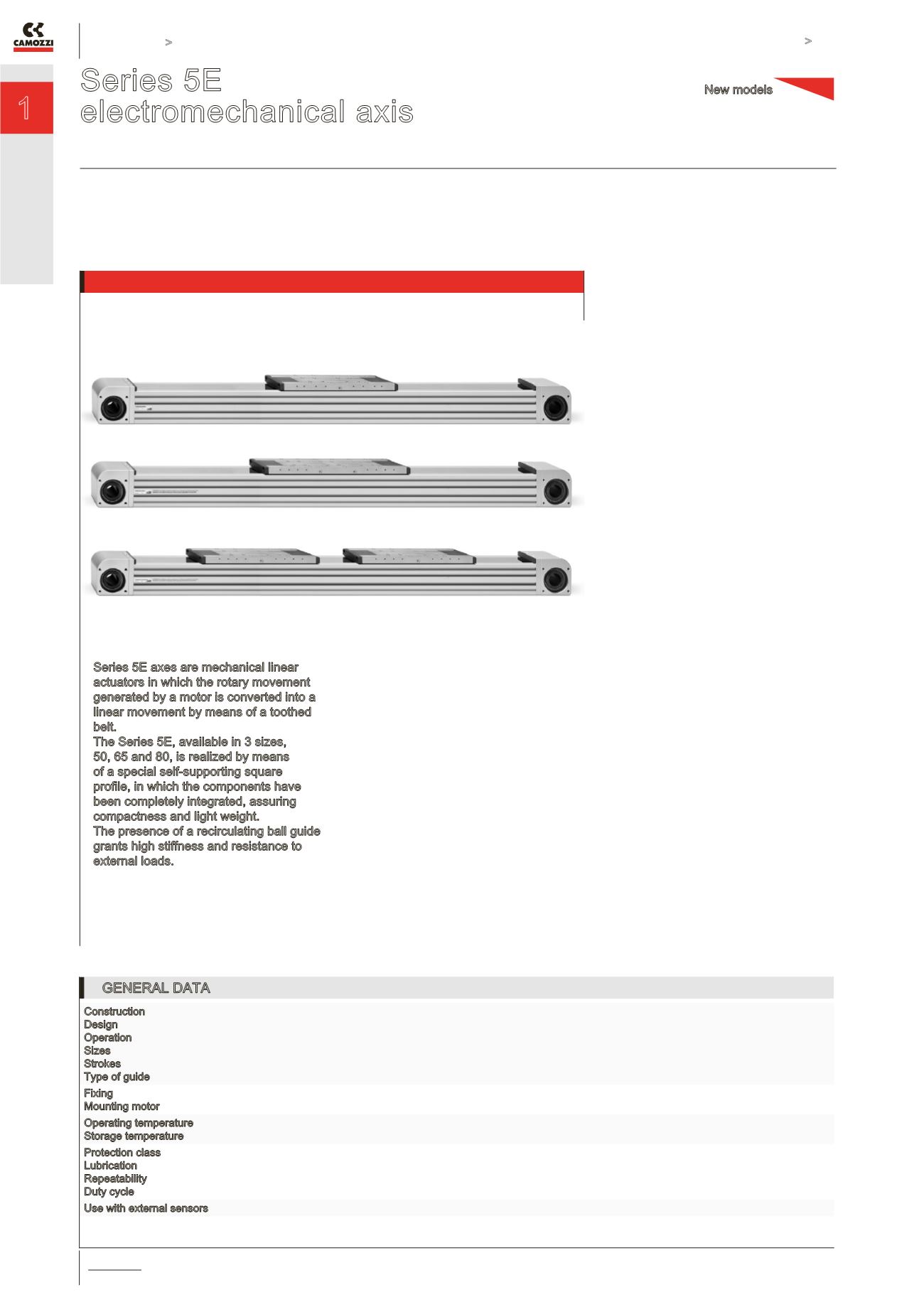 Products designed for industrial applications.
General terms and conditions for sale are available on
www.camozzi.com.
1
Series 5E electromechanical axis
MOVEMENT >
C_Electrics
>
2017
32
MOVEMENT
Series 5E
electromechanical axis
Sizes 50, 65, 80
Series 5E axes are mechanical linear
actuators in which the rotary movement
generated by a motor is converted into a
linear movement by means of a toothed
belt.
The Series 5E, available in 3 sizes,
50, 65 and 80, is realized by means
of a special self-supporting square
profile, in which the components have
been completely integrated, assuring
compactness and light weight.
The presence of a recirculating ball guide
grants high stiffness and resistance to
external loads.
To protect the internal elements from
potential contaminants from the external
environment, the profile has been closed
with a stainless steel plate. The axis
is equipped with a magnet that makes
it possible to use external proximity
switches (Series CSH), allowing
operations like homing or extra-stroke
readings to be performed. Moreover,
these actuators also have accessories in
order to be used with inductive sensors.
The Series 5E is equipped with specific
interface kits making it possibleto
connect the motor on 4 sides. The use
with high dynamics and the possibility
to realize multi-axis systems, make the
Series 5E particularly suitable for the
packaging and assembly sectors.
»
»
Multiposition system
with transmission of the
movement with toothed belt
»
»
Suitable for high dynamics
»
»
Possibility to connect
the motor on 4 sides
»
»
Large range of
motor interfaces
»
»
Possibility to use magnetic
proximity switches and/
or inductive sensors
»
»
IP 40
»
»
Max stroke 6 meters
»
»
Plates to realize multi-
axis systems
»
»
Presence of internal
channels for re-lubrication
»
»
Large range of axis
mounting accessories
Versions available:
»
»
Standard slider
»
»
Long slider
»
»
Double slider
GENERAL DATA
Construction
Design
Operation
Sizes
Strokes
Type of guide
electromechanical axis with toothed belt
open profile with protection plate
multi-position actuator
50, 65, 80
50 ÷ 4000 mm for size 50; 50 ÷ 6000 mm for sizes 65 and 80
internal, with recirculating balls (cage type)
Fixing
Mounting motor
by means of slots on the profile and special clamps
on all 4 sides
Operating temperature
Storage temperature
-10°C ÷ +50°C
-20°C ÷ +80°C
Protection class
Lubrication
Repeatability
Duty cycle
IP 40
centralized lubrification by means of internal channels
± 0.05 mm
100%
Use with external sensors Series CSH magnetic switches in special slots or inductives by means of supports
New models